DFE 20T 2.8kW Electric Heater

This rugged lightweight portable electric heater operates from a 230/1/50 electrical supply – either a standard 13 amp socket is suitable, or a 16 amp weatherproof socket.
The radial fan in these electric heaters produces good air pressure at very low noise level. An integral heater thermostat is a standard feature, as is a fan only selector for summer ventilation. Longer lengths of air ducting can be fitted to these electric heaters and double skin construction ensures that this heater has a low temperature outer skin.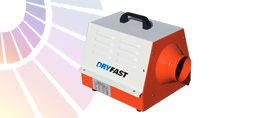 Available to Buy for £244.00 + VAT (£292.80 Inc VAT)
Delivery is extra and will be charged at cost price
Available to Hire from £31.00 + VAT per week
Delivery and Collection prices on request
DFE.20T Dryfast Electric Heater Specifications
Heating
Electrical Supply
Air flow
Dimensions
Weight
kW
Vollage
Amps
Watts
cuM/hr
Width mm
Length mm
Height mm
kgs
2.8
230
12
2900
225
340
393
304
10