Hot Water Based Heating Systems
Boiler & Fan Coil Systems
These systems make use of the same internal Fan Coils as our Chiller systems; the Y.15, C.15 and C.30, but in conjunction with sophisticated central heating boilers outside. These systems are mainly used in mid-winter when maximum heating capacity is needed. System capacities vary from 22kW/hr upwards.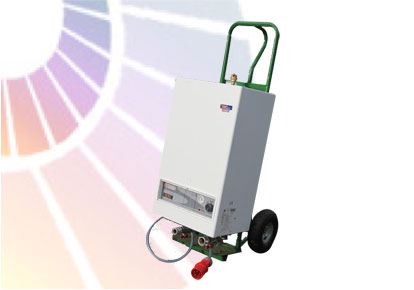 B.22 Electric Hot Water Boiler 22kW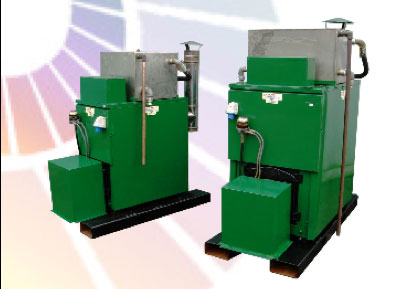 B.100 & B.200 Hot Water Boilers 100-200kW
Enquire about our Boiler & Fan Coil systems.
Available to hire from £212.00 + VAT per week
Model Reference
B.22 E
B.100 (S)
B.200 (S)
Heating Input
kW/hr
14.4 to 21.6
97.5
220.1
Heating Output
kW/hr
14.4 to 21.6
87.1
197.7
Water content
litres
13
51.0
165.0
Casing
Mild Steel Stove Enamelled
Polyester painted steel plate
Dimensions
Unpacked
L x W x H
550x520x1310
1480x720x1450
1700x720x1650
Weight
Dry without skids
Kg
36
386
715
Dry with skids
Kg
n/a
454
815
Operating with skids
Kg
n/a
505
880
Maximum Water Head
Bar
3
4
5
Minimum Water Flow
litres/hr
3.5+/-
3708
8460
Boiler Pressure Loss
mm wg
51
130
320
Flue Gas Temperature
°C
n/a
153
177
Flue Gas Volume
m3/hr
n/a
163
353
Fuel Consumption
Kero/Diesel B.100
Diesel only for B.200
l/hr
n/a
9.73
21.86
Electrics
Supply
V/ph/hz
400/3/50
230/1/50
Connection
Cee Form Plug
32 Amp 5 Pin
16 Amp (blue) 3 Pin
Consumption
kW/hr
22
0.25
0.25
Boiler Water Connections
Flow BSPF
Inches
1
1.5
2
Return BSPF
Inches
1
1.5
2
Drain BSPF
Inches
n/a
0.75
0.75
Pressure Jet Burner
Riello
n/a
10GS
20G
Flue Diameter
mm
n/a
150
200
Portable Boiler Ancillaries
Mixing Tank – s/s
Size – L xW x H
mm
n/a
560x450x400
700x450x400
Max Water Volume
l
n/a
84
106
Water Connections BSPF
inches
n/a
2 x 1.25
4 x 1.25
High Pressure Pump
Maximum Flow
l/s
0.5+/-
2.4+/-
(230/1/50 via a 16 amp, 3 pin,
Minimum Flow
l/s
0.1+/-
0.83+/-
Cee Form Plug)
Maximum Pressure
Bar
3+/-
6+/-
Plate Heat Exchanger
Size – L xW x H
mm
tba
119x116x376
243x125x525
Tappings
inches
tba
4 x 1.25
4 x 1.25