Cooling and Heating Solutions specialise in supplying modular water chillers that are destined for temporary applications and that are designed to suit rapid positioning, installation and commissioning.
We source standard chillers from manufacturers in Europe and the Far East and then modify them to a specification that facilitates their temporary use. As a result, equipment is usually made to order as opposed to being off the shelf.
Our chillers are predominantly heat pump models and range in capacity from 7.5kW/hr up to 105kW/hr.
Our range of 7kW – 15kW Mini Heat Pump Chillers can be paired up with our internal Y.15 Fan Coils to create a permanent or temporary Air Conditioning system equivalent to the set up of the ''PAC 22''. The internal, very quiet, Fan Coil and the external Chiller are connected by a pair of flexible hoses to carry flow and return cooling/heating water. The system is filled with water from any tap, and once full simply recirculates around the system. The water pipes are fitted with "quick connect" fittings and come in 5M modules which can be connected to create an appropriate length for individual applications. This simple to install "DIY" system has a cooling/heating capacity of up to 15kW whilst only needing a 230V Power Supply. Systems up to 10kW operate satisfactorily from a standard 13 amp socket. The system's design, and impressive cooling/heating specifications, make them perfect for use in IT Rooms, Offices, Shops, Event Spaces and many other applications.
MINI HEAT PUMP WATER CHILLER RANGE 7.5kW-15kW
Available to Hire from £218.00 + VAT* per Week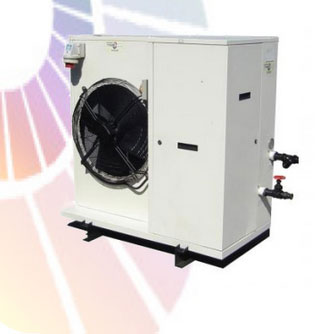 INTERMEDIATE HEAT PUMP WATER CHILLER RANGE 15kW (400V)-60kW
Available to Hire from £378.00 + VAT* per Week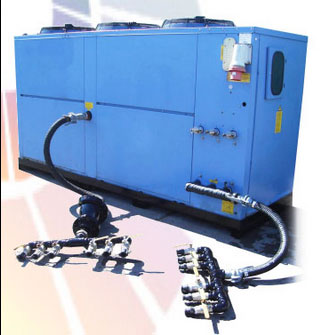 HEAVY DUTY WATER HEAT PUMP CHILLER RANGE 75kW-105kW
Available to Hire from £598.00 + VAT* per Week