PORTABLE AIR CONDITIONERS & SPOT COOLERS
Temporary Air Conditioning Units
Portable Air Conditioners
The KY.35 Mk.2 and Mk.3 units are very economic Monobloc portable air conditioning units that operates in conjunction with one hot air (tumble dryer) discharge hose. This style of unit is better described as a "spot cooler" as its effect is transitory ie., the cold air coming from the front of the unit is gradually extracted from the room via the hot air hose. Hence, one needs to be positioned in an arc around the front of the unit to feel the effect. The hose must discharge outside the area being cooled, via a partially open window or door, or sometimes into a false ceiling. The sweat from the air is collected in an integral reservoir.
KY.35 Mk.2 – Cooling & Heating
Available to Buy from £405.00 + VAT
Available to Hire from £58.00 + VAT per week
KY.35 Mk.3 – Cooling Only

Available to Buy from £378.00 + VAT
Available to Hire from £58.00 + VAT per week
The 15SF Portable AC Unit is the most versatile of our portable AC units. It is instantly ready to provide cool air in the hottest environments such as TV recording studios, production lines, outdoor events, manufacturing processes, injection moulding, metal forming and much more.
The 15SF delivers 15,354 Btu/hr of cooling, and provides the maximum capacity possible operating on standard 230V power. By cooling only the area that needs it, the 15SF Portable A/C Unit saves you money while protecting people and equipment and speeding up processes. Self-contained and portable, the 15SF requires little or no installation – simply roll it in, plug it in and turn it on.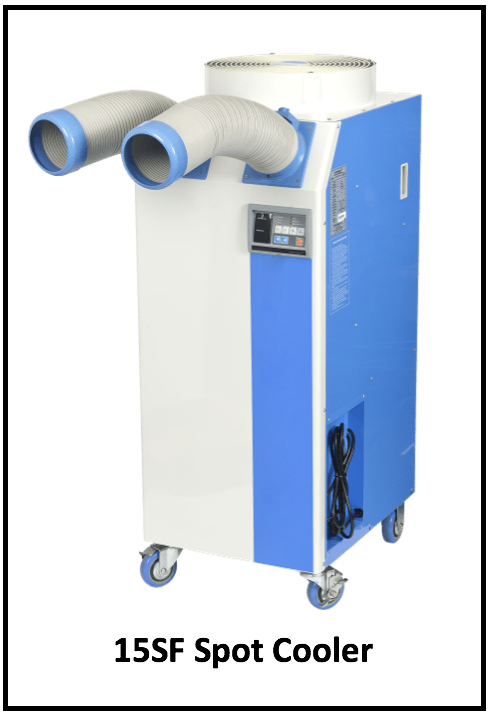 Available to hire from £139.00 + VAT per week
Available to buy from £2173.00 + VAT